First Rome Entrance Program students graduate from Temple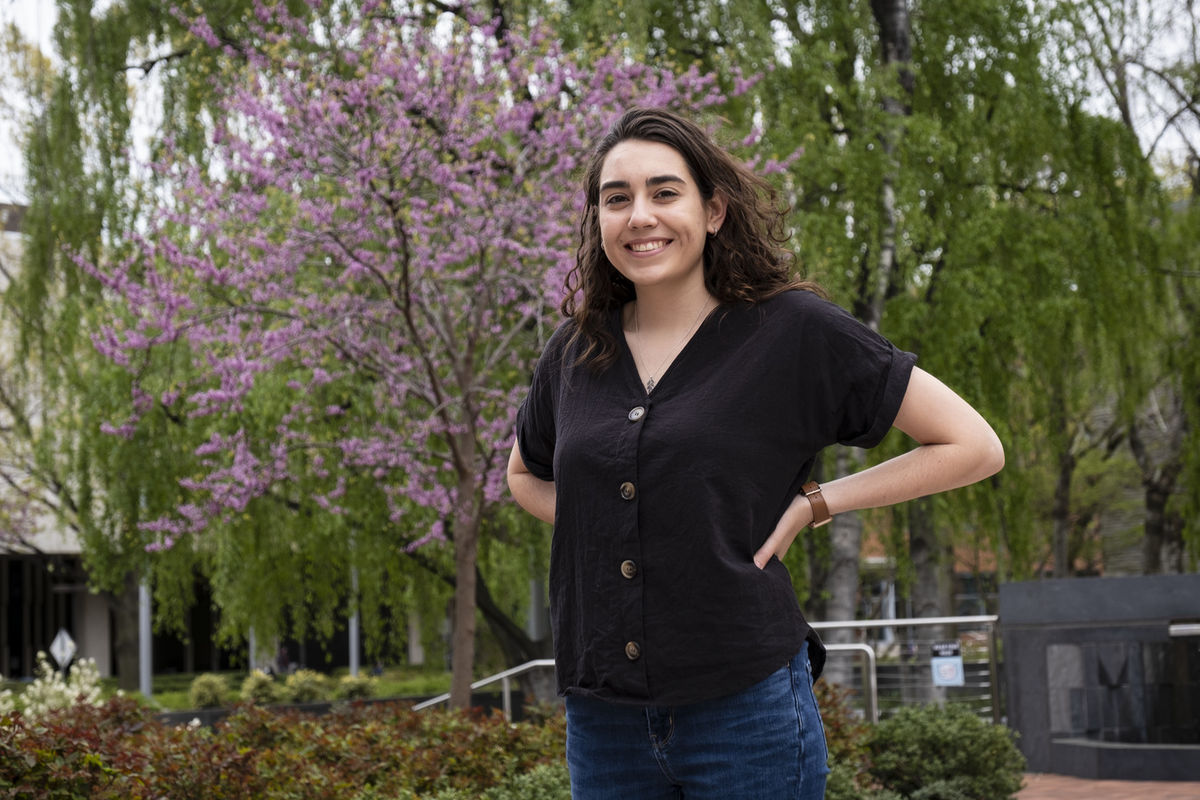 Laura Komara and Madeline Urbine, both of the Class of 2022, achieved a significant first for Temple.
They are among the first Temple Rome Entry Year students to graduate from college.
The program, which began in 2018, allows freshmen to begin their academic career at Temple University Rome for one full academic year before completing their remaining three years at Main Campus or Temple Japan.
Temple's Rome entry program was a big draw for Komara and Urbine.
Environmental Studies major Laura Komara is one of the first Temple Rome Entry Year students to graduate from Temple. (Photograph by Joseph V. Labolito)
"I chose Temple because of the program in Rome," said Komara, an environmental studies student from Lancaster, Pennsylvania. "I have always loved to travel. Living in another country is something few people can do. Visiting Rome for a week versus living there for nine months is a world of difference.
"Temple having its own campus there gave me peace of mind because I knew there would be students from my own school," Komara added.
Born and raised in Philadelphia, Urbine — who is graduating a year early after earning her first college credits in her senior year of high school — wanted to leave home for a while to get a new experience.
"With the Rome entrance program, choosing Temple was an easy decision for me," said Urbine, a political science student. "I love learning languages ​​and this was a great opportunity for me to learn Italian. The program ticked a lot of boxes for me.
Madeline Urbine, a political science major, is also among the first students to graduate from Rome's temple entrance program. (Photograph by Joseph V. Labolito)
While in Rome, Komara and Urbine immersed themselves in culture.
"I also tried to stay in Rome for the weekend to really get to know the city," Komara said. "I liked trying to live like a Roman."
Urbine also explored Rome, including its various neighborhoods, flea markets, restaurants and clubs. She even had the opportunity to travel through Italy, visiting Florence, Naples, Venice and Sicily.
"As a student liaison for Temple Rome, I would say [incoming] students to go if it's feasible because it broadens your perspective and gives you the support and tools to transition from high school to college in a new location and then to main campus," Urbine said. "You also have a lot of freedom to figure it out yourself."
Temple's Rome entry program was transformational for both graduates.
"The program gave me a new perspective on the rest of my college experience," Urbine said. "I think if I stayed in the same place, I wouldn't have grown up the same way. Going to Rome gave me the opportunity to see who I was outside of my family and friends and made me a stronger student and person. It made me more comfortable being uncomfortable.
Studying in Rome also pushed Komara out of her comfort zone. "Studying abroad has given me a lot of independence and confidence and taught me to do well what I want," she said.
After graduation, Komara will work at the Lancaster Farmland Trust as a Land Production Assistant where she will monitor farmland – including flying drones to take aerial imagery – to ensure that nothing new was built on these lands without the approval of the non-profit organization.
Urbine's future is also bright. Although she is unsure of her next step, she plans to go into educational administration, possibly creating programs or doing outreach to students.
Ultimately, they are proud to be among the first Rome entrance year students to graduate from Temple.
"I had a unique opportunity to start college, and it put me in a better position at Temple," Urbine said. "It's special to be one of the first students to graduate from the entrance program in Rome."