Fort Smith Schools Approve Teacher Pay Raise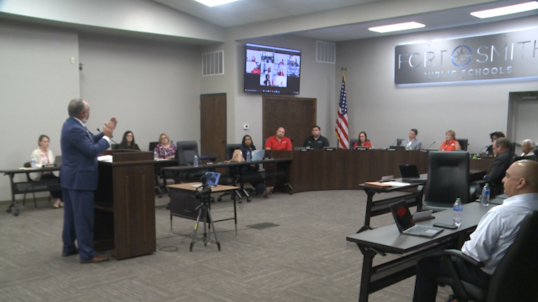 The Fort Smith School Board approved two proposals at a special meeting Monday night, including a pay raise for every teacher. The first proposal approval increases the base salary for certified teachers from $38,500 to $44,000 per year. It also adds a salary "step" to salary grids, giving more funds to teachers who have worked in the district for 21 years or more. Fort Smith Schools Chief Financial Officer Charles Warren told 40/29 News. "They got another $675 based on the restructuring and overhaul we came back and did tonight." The revised Certified Salary Schedule provides an average salary increase of $3,471.81. The second proposal approved by the board also added a pay grade 22 for classified employees, such as custodial and cafeteria staff, teacher's aides and maintenance staff. The classified salary schedule provides an average salary increase of $438.24. After hearing feedback on the initial salary scale proposal at the April 18 school board meeting, several school board members were concerned. They echoed criticism from community members who said the proposals were insulting to veteran teachers in the district. There was a public comment period prior to the salary grid proposals. "We need new teachers, and they need to be fairly compensated, but not at the expense of our veterans," said Heather Aguilar, an 18-year-old teacher from the Fort Smith School District. Christopher Rink, a former teacher and administrator who has three children currently in the Fort Smith School District, said he's asking the board to look at where the money is going when it comes to office operations. "District-unimportant positions eat up potential salary increases," Rink said. 40/29 News spoke with a Northside High School teacher after the reunion. "The concerns were that young teachers were getting a huge, much bigger raise than older teachers – veteran teachers were," Wendy Peer said. "And we wanted a fair increase. That's all we're asking for, it's a fair amount for all stages, all years. It hasn't been set." Peer said Monday night's proposal was better than the original proposal, however. "Now we're excited to see how we can help our district find more effective ways to find more teacher salaries next year." Chief Financial Officer Warren said the element of market correction makes some of the changes seem like they're harder on teachers who are used to the benefits of the previous structure. "What I hope they will remember is that they were on a bigger scale than a lot of their peers here in the River Valley," Warren said. "And it's just a way to fix the pay grid so that their colleagues who are new to the district in the first of their 10 years also get the benefits they've had for 10 or 15 years."
FORT SMITH, Ark. —
The Fort Smith School Board approved two proposals at a special meeting Monday night, including a pay raise for every teacher.
The first proposal approval increases the base salary for certified teachers from $38,500 to $44,000 per year. It also adds a salary "step" to salary grids – giving more funds to teachers who have worked in the district for 21 years or more.
"It's for any seasoned teacher who has 21 years of experience through 50 years," Fort Smith Schools Chief Financial Officer Charles Warren told 40/29 News. "They got another $675 based on the restructuring and overhaul we came back and did tonight."
The revised Certified Salary Schedule provides an average salary increase of $3,471.81.
The second proposal approved by the board also added a pay grade 22 for classified employees, such as custodial and cafeteria staff, teacher's aides and maintenance staff.
The classified salary schedule provides an average salary increase of $438.24.
After hearing feedback on the initial salary grid proposal at the April 18 school board meeting, several school board members were concerned. They echoed criticism from community members who said the proposals insulted veteran teachers in the district.
There was a public comment period prior to the salary grid proposals.
"We need new teachers, and they need to be fairly compensated, but not at the expense of our veterans," said Heather Aguilar, an 18-year-old teacher in the Fort Smith School District.
Christopher Rink, a former teacher and administrator who currently has three children in the Fort Smith School District, said he's asking the board to look at where the money is going when it comes to office operations.
"District-unimportant positions eat up potential salary increases," Rink said.
40/29 News spoke with a Northside High School teacher after the reunion.
"The concerns were that young teachers were getting a huge, much bigger raise than older teachers – veteran teachers were," Wendy Peer said. "And we wanted a fair increase. That's all we're asking for, it's a fair amount for all stages, all years. It hasn't been set."
Peer, however, said Monday night's proposal was better than the initial proposal.
"Now we look forward to seeing how we can help our district find more effective ways to find perhaps more salaries for teachers next year."
CFO Warren said the element of market correction makes some changes feel more difficult for teachers used to the benefits of the previous structure.
"What I hope they will remember is that they were on a bigger scale than a lot of their peers here in the River Valley," Warren said. "And it's just a way to fix the pay grid so that their colleagues who are new to the district in the first of their 10 years also get the benefits they've had for 10 or 15 years."