Leadership Hardin County Hosts Education Day | Business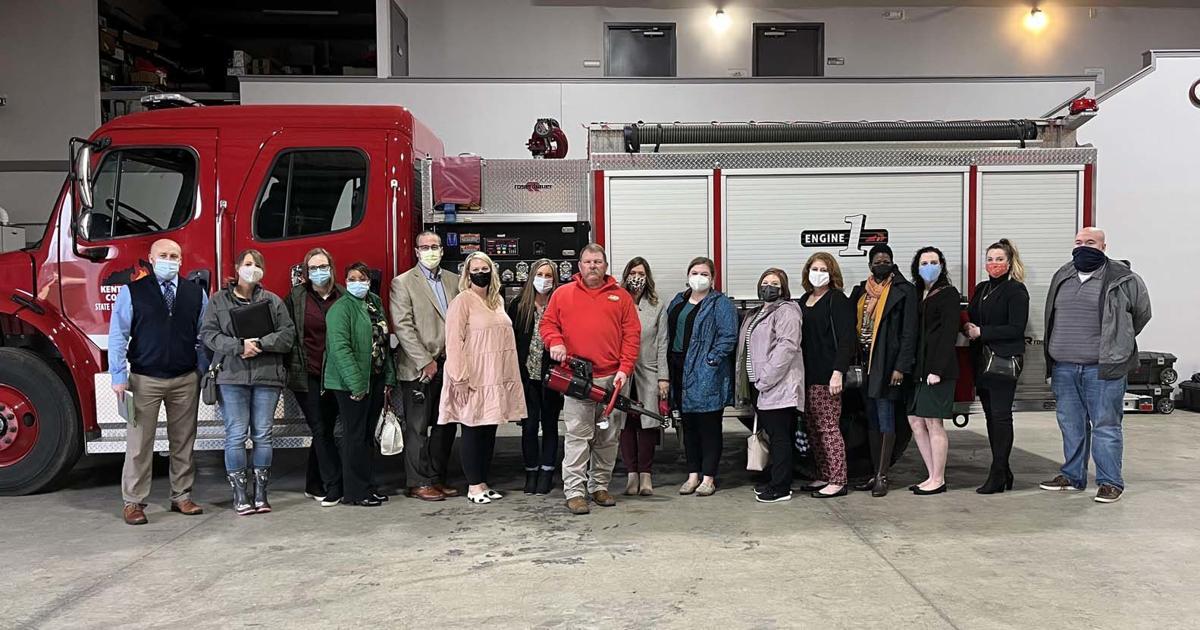 From preschool classrooms to lifelong learning opportunities, Hardin County offers a wealth of educational opportunities. The Hardin County 2021-2022 Leadership Class, sponsored by the Hardin County Chamber of Commerce, was invested in the educational focus of their February session. From a parent's perspective to ongoing employee training, each presentation created a sense of pride in Hardin County's educational programs.
The day began and ended with presentations from Hardin County schools. John Wright, director of public relations, brought in Lynnette Kennedy to launch the program. Kennedy is the district's home-school-community liaison. She has a passion for helping people which she expressed in her presentation on how she coordinates student homelessness prevention using a variety of community resources.
Many were unaware of the existence of a furniture and household goods warehouse where the district accepts donations to help these families get back on their feet. Anyone interested in donating can contact Kennedy by calling 270-769-8800.
After his presentation, Wright discussed the district's successes through COVID-19, including community support and promising test results for students this year. He said these are evidence that teachers are working diligently to help children master content they may have missed because of the pandemic.
Wright also informed the group of the 38 and growing pathways available to make the school useful to each student's needs, as well as the Academy's program from which 67 students graduated from high school the last year with an associate degree at less than half the cost of a post secondary. diploma.
The day ended with a group visit to Hardin County Schools Early College and Career Center, commonly referred to as EC3. The group learned about the projects the students are doing as part of their pathway courses and learned about industry certifications and community partnerships that allow students to learn on the job.
Anyone looking for information about programs available at Hardin County schools is encouraged to contact the district.
The class then toured the Vocational Technical Building at Elizabethtown Community and Technical College with the Dean of Workforce Solutions and Technical Programs, Mike Hazzard.
Members of the group were not only interested in some of the eight-week training programs to advance the skills of their employees, but also said they had participated in some themselves.
The school has a self-paced Coding Academy that focuses on specific certifications and skills that can lead to well-paying jobs with a short training. Other programs included courses in hydraulics, robotics, and industrial maintenance.
The group also saw the design process in a 3D printing class, where students created problem-solving products.
The last visit was the ECTC Fire/Rescue Science Technology building. The resources at their disposal allow them to facilitate training for many fire stations in the area as well as community demonstrations and education.
The on-site culinary program prepared a baked potato and salad bar with a wide variety of toppings for the leader participants for lunch.
After lunch, briefings and a question-and-answer session were provided by Provost Darrin Powell. The segments went well as Powell mentioned their partnerships not only with Hardin County Schools but also with Elizabethtown Independent Schools in the form of numerous dual credit options that allow students a smooth transition from school. either school system at the post-secondary institution.
Elizabethtown Independent Schools was introduced by Derisa Hindle, Workforce Readiness Coordinator and Leadership Class Member, alongside Jessica Turner. The two highlighted programs in their district, from Panther Academy to their high school. They talked about the roots of Panther Pride and the support of alumni. Shared programs included reward systems, clubs and partnerships.
Presenters said the school system has strong partnerships not only with the ECTC, but also with LaRue County schools, as well as a creative solution to provide more elective choices for high school students.
The presenters also discussed the changes in the district that they have seen over time. They were excited about the increase in diversity and used this community outlet to dispel misconceptions some have about the students in their district. They have seen an increase in the number of low-income students and have adapted as their student population has changed. Finally, they were proud to mention the sporting successes they have seen as a district.
The final piece came from the Central Kentucky Community Foundation with President and CEO Davette Swiney. She focused on the macro view of education and non-traditional ways of educating people. This created a reflection for the leadership group in terms of what education can be and where we can improve as a community. The foundation also provides scholarship opportunities not only for school needs but also for community needs.
It was evident throughout the day that the leadership group was invested in this month's program.