Music teachers present a concert on February 27 | Culture & Leisure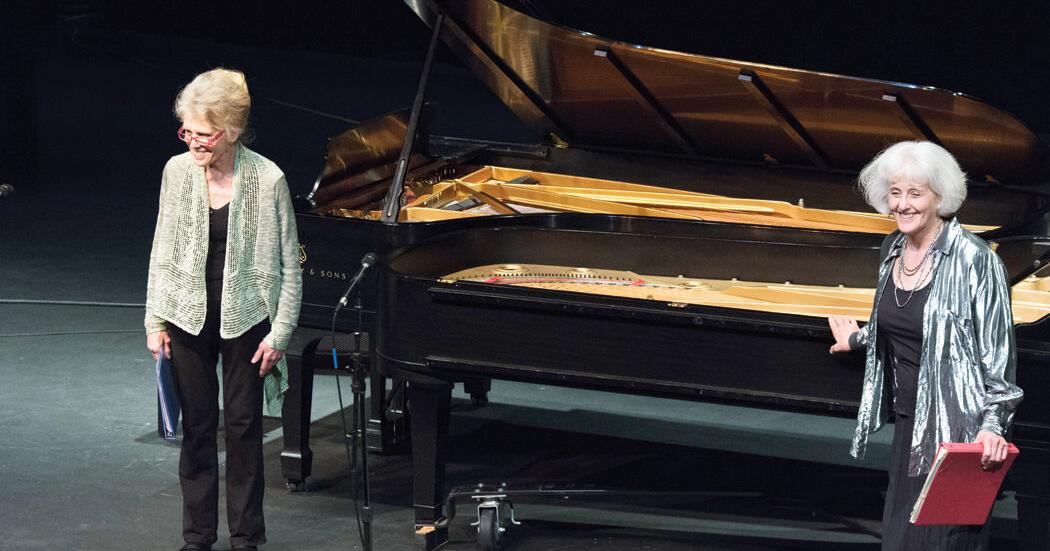 The spotlight will be on local music teachers on February 27, when the Lincoln County Oregon Music Teachers Association (OMTA) presents its annual "Spotlight on the Teachers" benefit concert at the Newport Performing Arts Center.
Teacher Recitals have been held since the late 1990s, following the arrival in Lincoln County of music teachers Mary Lee Scoville, Jessie Treon and Suzanne Brown. The February concert features popular and lighter music, and a fall concert features classical content.
Treon, from Seal Rock, said she and Scoville, from Waldport, started the teachers gigs. "When we got here, we asked when the teachers' recitals were on and there weren't any," Treon recalls. "So we pushed for them, and now most of our active members are performers in at least one of our two gigs every year."
The next concert is titled "Broadway, Movies & Fun", featuring music mostly from Broadway shows and pop content. It will last approximately 90 minutes, without intermission.
Admission is by donation and money raised goes to the Suzanne Brown Student Aid Fund, which assists OMTA students whose families cannot afford the full costs of music education. It can be used for books, tuition and festival fees and, in some cases, music lessons. Teachers are asked to give discounts to scholarship students and parents are encouraged to pay what they can.
Treon leads the committee with Scoville that organizes the band's two gigs, and said Cathy Champion-Predmore is also involved in the planning. These three piano teachers headline this month's concert, which also includes piano teachers Donna Olson and Rita Warton, and voice teacher Talia Neely-Sanfilippo.
Guest musicians Evelyn Archer, bassoon; Carol Wolfe, piano; Milo Graamans, piano and voice; and Tim Chase, tenor saxophone.
Scoville, who is semi-retired, taught music at Oregon Coast Community College for 21 years and noted that she couldn't imagine not being able to perform. She will perform "Cheek to Cheek" with Treon and is part of a quartet – two pianos, eight hands – that will perform "Bumble Boogie", which she performed solo in high school.
"And I'm usually the emcee," Treon added with a laugh. "It's no problem for me to talk!"
Each concert features ensembles, mostly duets, with this month's event including duets for piano and voice, and piano and bassoon. Performers choose their own music.
"It gets fun and interesting," Treon said. "We consider one of the greatest compliments we can receive is when people say they had fun at the concert. We have a good time when we play, and if we have a good time, the audience seems happy. have fun too.
Performers use Oregon Coast Council for the Arts Baldwin 9-foot concert grand pianos and Steinway 9-foot concert grand pianos. "I think we're the only local band to have played both pianos at the same time," Treon said.
"The (Newport) Performing Arts Center is one of our greatest assets in this community," she noted. "Teachers across the state can't believe we can play these pianos, and for our students to have the experience of playing on them as they grow up is phenomenal."
Jason Holland, executive director of the Oregon Coast Council for the Arts, which runs the PAC, said he's very proud the venue has such high-end pianos. "I love having them come out and play," he said. "It always makes me happy to bring them out for a performance."
Treon said members of local theater companies and the symphony orchestra performed with OMTA members, and noted, "We try to continue to expand our connections in the community."
During COVID, most music teachers have found ways to continue teaching online. "When I was vaccinated, some of the students came back in person," Treon said, but she continues to teach both in person and to students online, including one from Spain.
"Most of us learned to teach over Zoom or Skype" during the pandemic, Scoville said. "It's not as satisfying, but it helped us get through it."
Champion-Predmore said teaching piano in the time of COVID was a challenge. She had to quickly learn to teach on Skype and Zoom, and produced Word documents for her students to explain what to practice. She received much help – with advice and encouragement – ​​from OMTA President Sarah Barker Ball, formerly of Newport.
"We all had to learn to adapt so we could continue to teach," she said.
"Part of our goal in hosting concerts, outside of the scholarship fund, is that we want to connect with local theater people," Treon said. "And what I'm proud of this year is building a relationship with Waldport High School."
Guest artist Tim Chase, the Waldport High Band teacher, plays tenor saxophone and will perform a saxophone-piano duet of "Take the A Train" and "Don't Get Around Much Anymore" with Champion-Predmore.
In addition, Philip Reed, professor of videography at WHS, will bring his students to the concert to broadcast the event live. "He uses our concert to teach his students," Treon said proudly. "That's the kind of connection we want to make."
Champion-Predmore has been a member of OMTA for five years. She moved to Waldport from Montana, where she said the association held only one teachers' recital a year. "Here we have two every year, so we work twice as hard, but it's fun," she said.
Live streaming of concerts is a good option, she added. "We need theater and live music," she said.
Champion-Predmore is a huge fan of OMTA concerts. "I love making music with my friends," she said. "Our audience is educated and really appreciates the classics, as well as the diversity of the music we're playing this month. And I enjoy both in my life.
"I don't like doing solos, but I love doing ensemble music," Scoville said of Spotlight on Teachers. "It's fun for us serious classical pianists to branch out. We have a good camaraderie. And we are very happy to be back.
The performing arts center requires proof of full vaccination to access all shows, which means the show takes place at least 14 days after the last dose of vaccine.
Those unable to provide proof of vaccination, including children under 5, must have proof of a negative COVID-19 PCR test, taken no later than 72 hours before the performance. All patrons, staff, artists and volunteers must provide this information as a condition of entry. Per City of Newport and state mandates, mask wearing is mandatory for all people inside the PAC, regardless of vaccination status.
The "Spotlight on Teachers" benefit concert will take place at 2 p.m. on February 27 at the Alice Silverman Theater at PAC. Admission is by donation to the Suzanne Brown Student Aid Fund.