OUWB Medical Students Win American College of Physicians Awards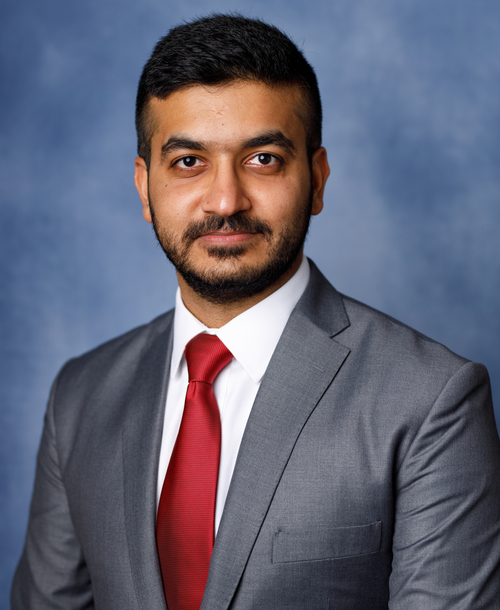 Four medical students from the William Beaumont School of Medicine at Oakland University were honored for poster presentations at the recent annual meeting of the Michigan Section of the American College of Physicians.
The CPA is a national organization of internists, the largest organization of medical specialties, and the second largest group of physicians in the United States. Its 161,000 members include internists, subspecialists in internal medicine, medical students, residents and fellows. The group acts locally through its chapters.
The Michigan Chapter held its annual scientific meeting October 14-17. The event included networking opportunities and guest speakers, as well as abstract contests for residents and medical students. A total of 51 posters were presented by medical students via pre-recorded videos.
OUWB students Hassan Akram, M4, Faris Alkhouri, M2, Ryan Ko, M2 and Tiffany Loh, M2, were among more than 50 medical students presenting posters. The four OUWB presenters each won at least one award, and Loh received two.
"It's really good and surprising," Loh said. "(Entrants) must be accepted to even enter the contest… I was just happy to be accepted. "
Loh won first place in the clinical vignette category for medical students, as well as the best abstract for medical students. His poster was titled "Granulomatous Polyangiitis with Minimal Physical Symptoms". The co-author was Arati Kelekar, MD, assistant professor, Department of Internal Medicine.
Loh said the case she presented was from a rheumatology internship that was part of an internal medicine internship she did last summer at Beaumont Hospital.
She said it was especially interesting because of the extreme rarity of the disease and the patient having no symptoms, such as inflammation of the blood vessels in the nose, throat, lungs, etc. It was only discovered by the kidneys. biopsy, Loh said, and when the patient revealed he had coughed up small amounts of blood.
"(The patient) was sent to the emergency room and he said he was feeling good," Loh said. "His nephrologist was alarmed because he noticed that (the patient's) kidney function had declined by about 50 percent within a few months."
Loh said she thought it would make a good case study. Mainly, she said, to demonstrate the importance of lab tests and a thorough history.
Alkhouri came in second behind Loh. His presentation was titled "Prurigo Pigmentosa After Keto Diet and Bariatric Surgery". The co-authors were Samaa Alkhouri, Omar Afify and Geoffrey Potts, MD
"It feels good," he said. "I didn't expect to win this, but it's great to know that the work I do is useful and useful.
Alkhouri said his case stemmed from his experience observing a dermatologist. Nagashima pigmentary prurigo (PP) is a rare disease typically found in adolescent girls and young women with idiopathic etiology. It presents as symmetrical reticulated red papules or vesicles on the neck and trunk with frequent recurrences.
"I wanted others to know what it is and to be able to tell the signs and symptoms of it because it's probably more common, but it's not diagnosed," he said.
Akram was named the overall winner in the quality improvement category. His presentation was titled "Acceptance of Human Papillomavirus (HPV) Vaccination in HIV-Infected Patients: Challenges During the COVID-19 Pandemic in Michigan, USA". The co-authors were Paul Johnson, MD, assistant professor, Department of Internal Medicine, and Trini Mathew, MD, professor, Department of Internal Medicine. The objective of the project was to assess the uptake of HPV vaccination and the challenges in HIV-infected patients at Beaumont Hospital.
He said the recognition was "really an honor".
"By showcasing the work, we can educate the provider to discuss vaccinations and their benefits with their patients," Akram said.
Ko was awarded third place in the research category for medical students. The title of his presentation was "Feasibility of a COVID-19 Education Campaign Led by Medical Students to Improve Vaccine Acceptance in Low-Income Communities". The co-authors were Brandon Prentice, M2, Mallory Evans, M3, Jean Szura, Ph.D., Director of Service Learning, and Nelia Afonso, MD, Assistant Dean for Community Living and Outreach, and Professor, Department of basic medical studies.
The presentation focused on the group's efforts to run a COVID-19 vaccination campaign when injections were first available.
"It was a very good surprise," he said. "After a whole year of work, it was really exciting to have received this recognition."
For more information, contact Andrew Dietderich, Marketing Writer, OUWB, at [email protected]
To request an interview, visit OUWB Communications & Marketing Web page.
NOTICE: Unless otherwise noted, all articles are published under a Creative Commons Attribution 3.0 license. You are free to copy, distribute, adapt, transmit, or make commercial use of this work as long as you credit Oakland University William Beaumont School of Medicine as the original creator and include a link to this article.
Follow OUWB on Facebook, Twitter, and Instagram.