Ponchatoula teachers showered with gifts at Kiwanis Club Appreciation Breakfast | St. Tammany Community News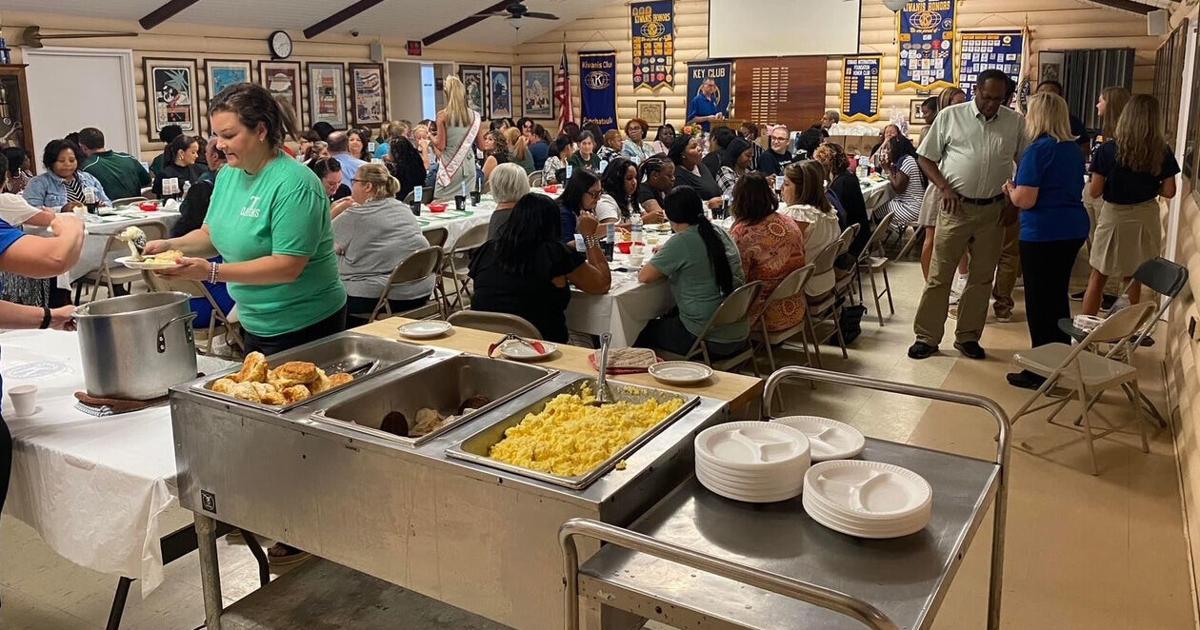 Continuing a decades-long tradition, the Ponchatoula Kiwanis Club treated approximately 100 teachers to a full breakfast, presented them with gift cards and showered them with door prizes at the annual Teacher Appreciation Breakfast which was held on August 10 at the club's Log Cabin.
Danny Williams, Kiwanis club president-elect, said the event "is a very special day for members of our club as we realize that raising our children is perhaps one of the most important things we community can provide. This breakfast is a way for our club to let teachers know that we appreciate all they do for our children.
Williams, a retired teacher, said an important part of Kiwanis International's mission is to serve the children of the world and help provide students with the best education possible.
"Too often our teachers don't get the recognition, appreciation and thanks they deserve, and our breakfast is a way to express our appreciation for the service provided by our teachers," Williams said.
This year's event marked a return to the traditional way of honoring teachers. Precautions taken to help prevent the spread of COVID resulted in the cancellation of breakfast in 2020 and 2021. In lieu of breakfast, club members delivered school items and gift cards to schools for distribution to teachers.
"It was great to welcome the teachers back to the Kiwanis Log Cabin for the appreciation breakfast," said club secretary Shelley McNemar. "For more years than anyone can remember, we have always hosted the breakfast to honor our teachers and help them get the new school year off to a great start. This breakfast was one of the nicest things we do as a club and we really like getting up early and making a big breakfast for our educators.
Williams said a slew of companies donated gift cards and door prize items. The Kiwanis club also purchased many gift cards. "We had an incredible number of door prizes. In fact, everyone in attendance won at least one door prize and several won two. This is a testament to the generosity of the citizens of Ponchatoula and this region," Williams said.
He also thanked members of the Ponchatoula Key Club, who helped serve guests at breakfast.
Mrs. Louisiana Sandy Price, from Ponchatoula, also helped. She handed out door prizes to the winners and greeted the teachers as they arrived.
Reverend Aaron Gordon, pastor of First Presbyterian Church in Ponchatoula, brought words of encouragement to the teachers. He led prayers for teachers, administrative staff and other school workers and the students they will teach in the coming school year.
Williams said prayer and an inspirational message have always been part of breakfast.
"Our last Teacher Appreciation Breakfast turned out to be a great success, and we hope that our club, in this way, made at least a small contribution to the start of a new school year," said Williams. "We plan to continue supporting our teachers and their students in other ways throughout the year."