Should the West Bend School District arm teachers to improve safety?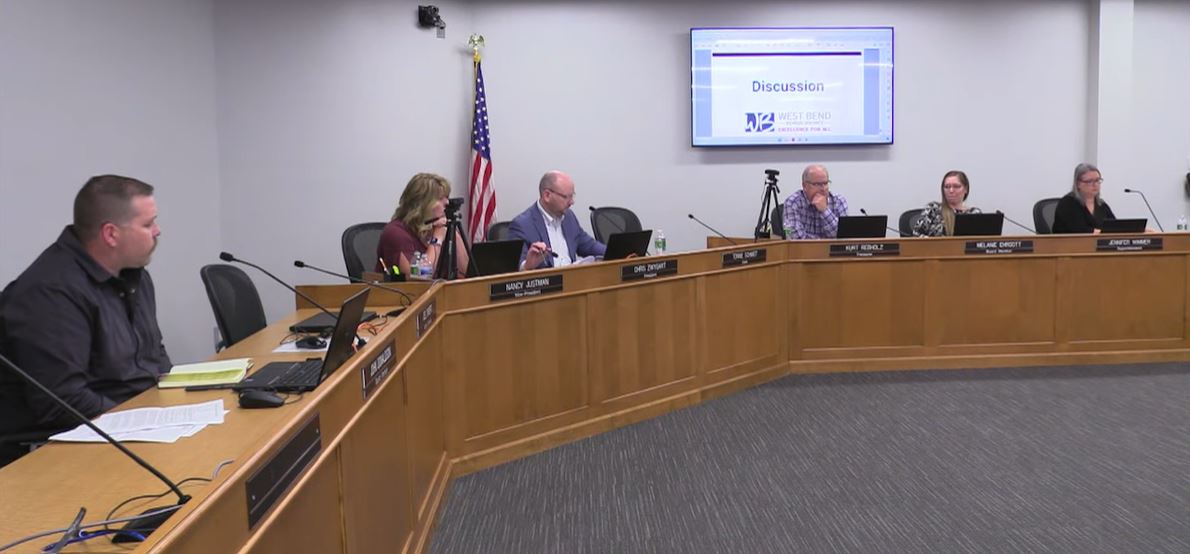 September 13, 2022 – West Bend, Wisconsin – The West Bend School Board spent 32 minutes Monday night discussing whether arming teachers would be a good way to improve school safety.
The final decision seemed to require more discussion.
The topic first came up in the public comment portion of the meeting as adults in West Bend weighed in on the matter.
Click on HERE at SUBSCRIBE to FREE local news on
Washington County Insider on Youtube
Mr. Roberts – "There is absolutely no research that indicates that schools and I mean students, employees, educators and administrators, there is no research that makes schools safer from a potential mass shooting with more weapons in schools. Despite the horrific tragedies of mass shootings like parks in Florida and Texas, mass shootings are extremely rare.
Rachel Kate – "Although I wholeheartedly believe that schools should and must be safe for all students. Arming personnel is not the solution. Let's take a look at recent events happening in Texas. There were many police present and armed in the building for all this horrible tragedy that happened. But that still didn't prevent or stop the horrific events that happened. If our trained law enforcement is not properly trained or is going to step in to stop an active shooter. How can we expect our teachers and support staff to do this.
Neighborhood parent – ​​"It's no secret that there is a problem with violence at school. And we would all like our students to be as safe as possible. Arming teachers is not the solution. Our schools employ School Resource Officers who have extensive in-school training and are on campus during school hours to respond. As well as the policies and procedures in place to respond to situations and events of concern or more closely. Please take student safety events very seriously. I am a parent of a student and want her to be as safe as possible.
John Donaldson, a school board member, was the one who broached the subject when discussing how to improve safety in the district.
"We don't have adequate security in the entire district," Donaldson said. "We have four liaison officers in the district and that's not enough."
While Donaldson argued that staff were trained and volunteered to participate, the majority of the board were hard to convince.
School board president Chris Zwygart praised Donaldson for his commitment, but said the proposal needed more vetting. "I think there's appeal to the argument you're making," Zwygart said. "One is advocacy and the other is security. From the reviews, I don't know if we're there. I don't know if the community is in favor of this.
Board member Nancy Justman focused on costs. "I 100% support some of Mr Donaldson's comments, including increasing officers, metal detectors, securing doors. I want to see a plea though to lift the withdrawal limits. I pay taxes in this community. We cannot do it legally with the state tying our hands.
Donaldson pushed the scrutiny all the way by pointing out that it was part of the freedom of this country. "I fully support anyone who wants to protect themselves," he said.
After much discussion, Zwygart acknowledged that this was an "ongoing debate" and that he was "open to further discussion". Zwygart also recommended a work session on school safety.
Superintendent Jen Wimmer said she would move forward to see who else is looking at similar security proposals and investigating.
Board member Tonnie Schmidt, co-owner of Delta Defense, a West Bend company that provides sales, marketing, operations and administrative support to the US Concealed Carry Association, was not present.
To the south, the Germantown School Board has taken several additional steps to improve school safety by asking the State of Wisconsin to change its laws to allow concealed transportation in schools if requested by the school district. The Germantown School Board has also asked the State of Wisconsin to provide firearms training to school personnel who request it.
Related