Teachers and students in Tupelo reflect on a successful school year amid pandemic | Education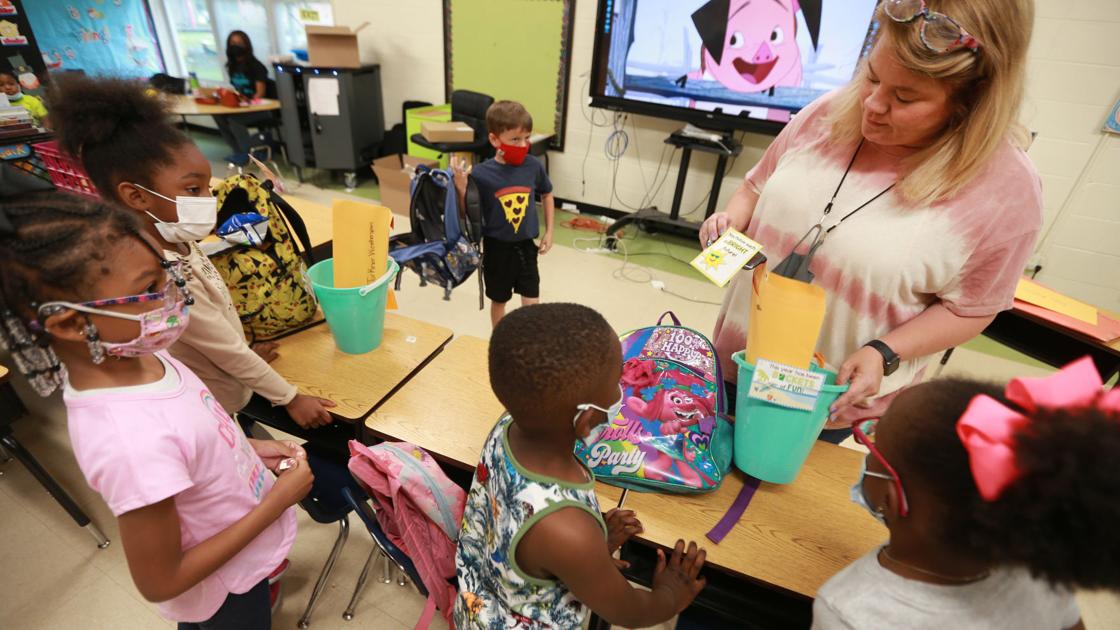 TUPELO • Students at Thomas Street Elementary packed their backpacks and left school one last time as the 2020-21 school year in the Tupelo Public School District wrapped up on Friday afternoon.
Second graders Samantha Garner and Maggie Shepherd said they had a great year with their teacher, Jeni Chandler.
Maggie had been attending Thomas Street since kindergarten, but had been homeschooled from the start of the pandemic until her return in January. She said coming back to Thomas Street "was a bit difficult" but also "quite fun because I got to be with a new class."
Samantha and Maggie are both excited to make new friends at a new school after completing their time at K-2.
The end of May marked the end of a tumultuous school year. It started with strict masking and social distancing warrants, frequent quarantines and isolated school closures in northeast Mississippi. And yet, the year also highlighted the resilience of teachers, staff and students who have persevered and succeeded.
Mark Garrett, eighth grade Spanish teacher at Tupelo Middle School, said the school year went smoother than he expected, thanks to the strong support from the school administration and district, as well as a "great group of students" who made teaching enjoyable. .
He entered the school year determined that everything would be fine. But challenges like managing a new learning platform, teaching distance learners for the first time, and changing class schedules were daunting.
During his 19 years as a teacher, Garrett has always placed students in groups in his classroom. But not this year. This year the students were seated 6 feet apart, with desks sprawled from wall to wall.
The hardest part of his year has been juggling courses for traditional and distance students simultaneously, Garrett said. He taught traditional classes from 8 a.m. to 2 p.m. and distance learners from 2 p.m. to 3:20 p.m.
But one bright spot he takes away from the year is to be better prepared to teach distance learners in the future.
"Now that I have my foot in the door, so to speak, I can only get better and better," he said.
Garrett hopes that next year he can regroup his students again and make the class interactive as it should.
"I want all of my students to be in a classroom," Garrett said. "I want to see them. The distance learners I've had all year who never became traditional learners, I haven't really gotten to know them personally. As a teacher, I regret it because that I want to see their face, interact with and get to know them. "
Carole Elliott, a first grade teacher at Carver Elementary School, said she and her students had "the most amazing year."
"I've been doing this since 1994, and have to say it was probably one of my favorite school years," Elliott said. "The kids were so happy to be back in class at the start of the year, and they had such a desire to learn this year, more than I have seen in the past."
Before school started, Elliot was nervous because there were so many unanswered questions. How to socially remove first graders safely? How will group projects work?
"In grade one, building a community is everything," said Elliott. "I knew, as a teacher, that it was in the best interests of the children that we had to go back to class because they need this one-on-one instruction."
If someone had told her at the start of the school year that the district would have come to the end without closing, she would have called them crazy.
But that's exactly what happened. Elliot thanks Superintendent Dr Rob Picou, the school board, administrators, parents and teachers for this success.
"Everyone worked together to make sure we stayed in school and everything worked," she said.
The hardest part of Elliott's school year was the stress of trying to stay ahead of the curve at some point in order to ensure, in the event of a shutdown, that the needs of the students would be met.
The motto of TPSD this year was "Better Together". It's a message Elliott has insisted on in his class and hopes to continue next year.
Hannah Godown, a new elder at Tupelo High School, took in-person lessons on the first day of school. She immediately noticed a lack of socialization among the students, so "it didn't seem normal and it was a little sad."
She decided to become a distance student and completed her freshman year with the exception of one class, College Algebra, which she attended on campus during the spring semester.
"I really liked the flexible schedule because I was working more and doing my schoolwork all the time," Godown said. "I had no problem learning online."
The hardest part was "not being able to see friends," Godown said.
At the start of the year, she expected the school to have to close again for an extended period, as she did in March 2020, but was happy to see that was not necessary.
Tupelo High School was only forced to close its entire campus once during the 2020-2021 school year, when an increase in COVID-19 cases on campus in November forced a one week closure to stop the spread.
Godown plans to return to traditional in-person apprenticeship for his final year of high school. She said she looks forward to the senior activities and soccer games and hopes things will get back to normal with no masks required.
Tom Henry Brister, another senior entering Tupelo High School, said his freshman year of high school was "definitely very different" from the previous two.
He felt that the 2020-2021 school year "had started a little uncertain" and then improved. Over time, he got used to COVID-19 protocols like wearing a mask and social distancing. Soon everything became a routine.
The hardest part, Brister said, was having shorter class periods due to shortened school days.
"Fifteen minutes doesn't seem like a lot, but we needed 15 more minutes each day to cover the lesson," Brister said of one particular math class. "We never finished the lesson. It was very hard to get used to."
On a personal level, if there is one thing the pandemic revealed to Brister, it would be the importance of school, both academically and socially.
"It showed you what your current life would be like without school," Brister said. "As much as people say they don't like school, you really need the school in your life to help you with your education, your social life and everything."