Teachers reveal the craziest excuses that were true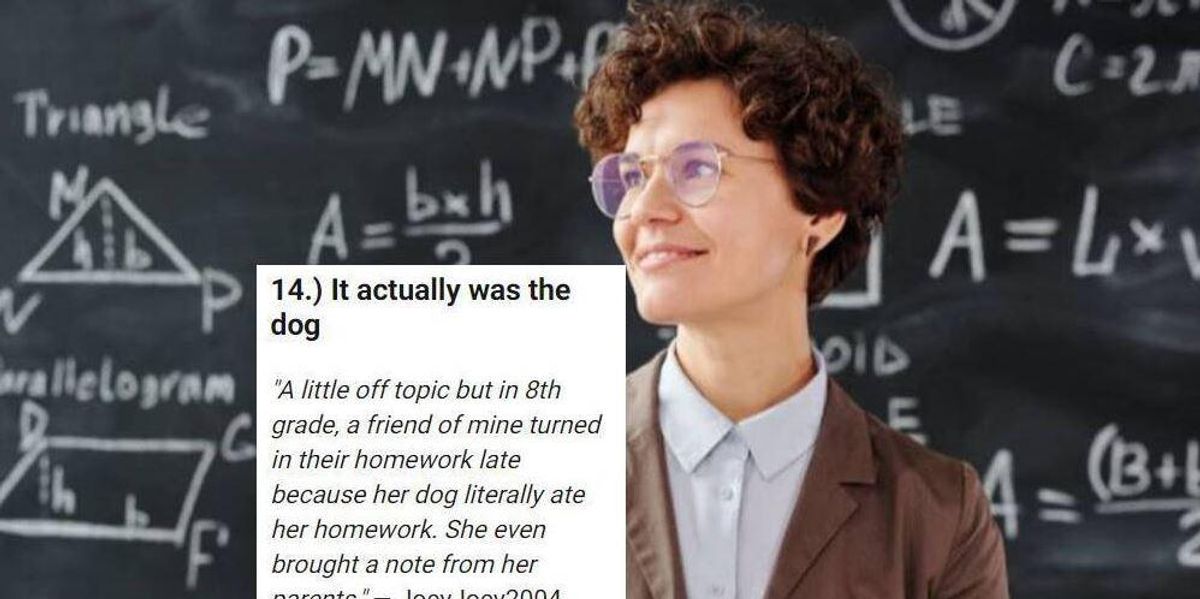 K-12 teachers and college professors have heard every excuse in the book. Whether it's a third grader claiming his "dog ate my homework" or a freshman claiming his grandmother died to evade an exam, they've heard it all a billion times.
A college professor once listed the 21 best excuses he's heard from his students. Here are the top five:
5. "It's the last week of the semester."
4. "It's St. Patrick's Day or 4/20"
3. "Our other teacher held us back."
2. "My schedule said class was cancelled."
1. "I'm going on vacation."
---
Yes, some students actually say that they didn't do their work because of a holiday based on alcohol or high and others have the audacity to say, "Hey! I needed a vacation. After spending week after week looking for excuses, there's a good reason most educators are skeptical when they hear one from their students.
But every once in a while, an excuse that seems far too unlikely to be believed is actually true.
Reddit user u/minecraftplayer48 asked Reddit teachers to share the "best excuse for being late that turned out to be true" and the stories were all pretty awesome. But it is not only the teachers who have intervened; many people shared stories from when they were students and had such a crazy excuse that they thought no one would believe them.
Here are 17 of the best excuses for being late that were actually true.
1. Revenge of the torque wrench
"My car teacher let me practice removing and adding the tires to his vehicle. The next morning it was about 20 minutes into the first period and no sign of him. He comes running in the classroom out of breath and his hair is all messed up. He points at me and says "YOU!!!! What is a torque wrench for???" I respond with "I don't know." He says "I know you don't know!!!" Turns out one of his tires came off as he he was driving on the freeway." — ethnicjello
2. Mom wanted to sleep
"She had to take her sister to school and drive her mother to rehab. She was always late to class because her mother just wanted to sleep. The problem was if the mother was late or didn't go "No, she would have violated her probation and gone to jail. I never marked her late. If she missed something important, she could come over for lunch or after school to catch up." —RM156
3. "Was that you?"
"As a student here, I went to school early to study in the library before my evening class. I was on an exit when I got into a 3 car accident. Most of the highway by the suite was blocked off with only one lane left open. I ended up making it to my lab class 15 minutes late with a few scratches and bruises. My teacher's reaction was simply "Oh, that was you! " AlienCowAbduction
4. "The school bus exploded"
"I was one of about 20 children who were late for school. We showed up at the school office as a group and when asked why we were late, we said 'The school bus exploded.' They asked 'So the engine exploded?' Children "No, the whole bus, in flames. It exploded."
"There was a lot of talk between the teachers, all of them thinking that we had embellished the story. Next thing you know, one of the administrative staff opened the news website, a very obvious picture of a whole bus on fire with a group of kids in our school uniforms standing in front. Our late slip for class said, "School bus blew up." —AusPB90
5. BUI
"He told me he got pulled over by the cops for wobbly riding his bike and they thought he was drunk. Turns out he was just dodging all the slugs on the street ." — Fortisvol
6. Chicken of Death
"A guy in my middle school class missed class one day. The next day he walked in with his eyes covered and medical papers in his hand. Apparently he got his eye pecked by a chicken." —BrrToe
7. Chicken 2: The hen
"When I was a student teacher, I was late because there were chickens in a cluster in the middle of the road. They weren't moving at all. It's in the middle of a city of 200,000 people. Creepy chickens.
"I finally get to school and I profusely apologize to my mentor teacher and told her why I was late thinking it sounded ridiculous. She said, 'Yeah those chickens are fucking assholes they surrounded my car in the McDonalds parking lot last year. Do not worry about that." —Makenshine
8. Cracker Barrel Conference
"I taught the first period to a group of seniors. It was towards the end of the year. I had a class of about 30 and only 5 were there when the bell rang. Halfway through, the others showed up. They went out to Cracker Barrel for breakfast and brought me some. All was forgiven." — SwansonsLoveChild
9. Late Bear
"Bear in the yard. No access gate. Animal control had to drag him out of the room and drag him through the house. I made the headlines. I have to take the test again which I failed after sending him the article." —Vladtehwood
10. Present the dish
"We had an exam in my class and the teacher got a message from a student saying he was going to be late because his car had a flat tire (the student was known to party), the teacher didn't didn't think it could be true, so as a joke, the teacher asked him to bring the tire back. He brought the flat tire back in the middle of the exam. Needless to say, the teacher didn't expect that. -Sapang
11. Moo
"A child missed my first period lesson one morning, but was in school later that day. When I asked him why he hadn't arrived in time for my lesson, he said his cow was whelping that morning, so he chose to be in the barn over English. That made sense to me. His trials weren't going to win any ribbons at the county fair, but his calf might. — Bobosbigsister
12. Removal
"In high school, a kid came late to history class. He was a prankster so when someone asked him where he had been, he said, 'I was kidnapped.' Everyone laughed, until he said "no really".
"Turns out 2 guys kidnapped him and threw him in the back of the van he was using for his morning paper. They drove him around while they stole something. I don't care. don't remember what happened after. I think they just drove the van somewhere and I ran away." —notinmybackyardcanad
13. Honesty is the best excuse
"He's not a teacher, but a kid walked into my class one day and literally said, 'Sorry, I'm late, I didn't want to be here.' He wasn't wrong, I guess. " —Scally59
14. It was actually the dog
"A bit off topic but in 8th grade a friend of mine turned in her homework late because her dog literally ate her homework. She even brought a note from her parents." —JoeyJoey2004
15. Is this a real excuse? Or is it fantasy?
"'Sorry, Bohemian Rhapsody started just as I parked.' — My art teacher when he was about 5 minutes 55 late." —Deeberber
16. "I took a shortcut"
"It happened to me as a student; a very quiet and unassuming child in our class came in German with about five minutes left in class. We went to a Catholic school and the teachers were all pretty strict and intimidating. Classes were usually quiet, especially in middle school. When this boy entered the classroom at the end of the lesson that day, the door flew in with such force that the teacher pushed an audible hiccup.
"It was raining heavily outside, his hair was stuck to his forehead. His blazer was dripping wet and wet. He had mud embedded in his pants up to his knees and he was breathing heavily. The professor exclaimed, 'Brendan!? ' We all stared at him in shocked silence. This quiet, unassuming little boy let out a big sigh and just said, "I took a shortcut." And went straight to his seat.
"That line became iconic at our school for years after." — lestat85
17. Pug lovers can attest to this
"The kid was late for school and must have missed a very important football game. The reason? His fat pug fell asleep on his phone. The pug's fat rolls silenced his alarm." — tip52
From articles on your site
Related articles on the web